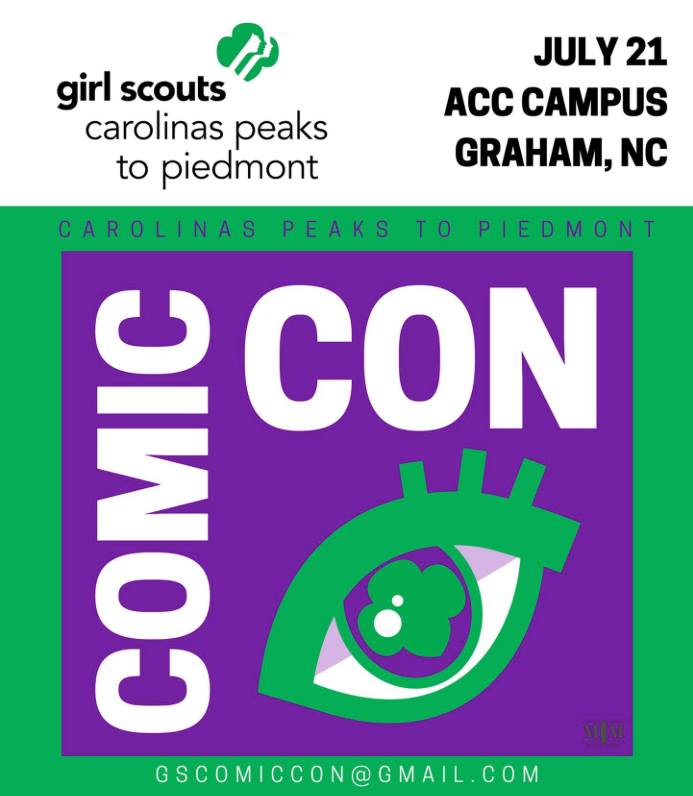 Date:
Sat Jul 21, 8:00 AM
- 9:00 PM EST
Category:
Girl Program
Level:
Junior, Cadette, Senior, Ambassador
The Girl Scout Comic Con is a one-day event of fun for Girl Scout Juniors and above featuring cos-players, artists, Q&A's, films & shorts, costume & cos-play contests, STEM, vendors, anime, workshops and more! The Girl Scout Comic Con is the first comic con specifically geared to Girl Scouts! Sign up as an individual or make it a troop event! If you are Girl Scout and a fan of pop culture, superheroes, science fiction, anime, this is for you. Remember to dress up in costume or come as you are for this event.

This event will allow opportunities to attend a variety (and up to four) workshops. Not all workshops are of the same duration, or for every Girl Scout level. If you have time between workshops, be sure to visit our outside vendors, the Girl Scout mobile shop, the college bookstore, Artist Alley and more!
The Cantina at the college will be open from 8:30 a.m.- 1 p.m. for breakfast and lunch. Your dinner will be provided as part of your registration fee. If you have any special dietary needs, please let us know when you register.
For questions about the event, please contact us at info@girlscoutsp2p.org.
Registration Deadline: June 16, 2018
Fee: $45 per person