Helen Morris Lewis- Highway Marker Ceremony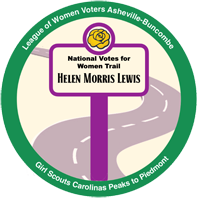 Date:
Sun May 22, 1:00 PM
- 3:00 PM
Level:
Daisy, Brownie, Junior, Cadette, Senior, Ambassador
Location: Parker-Patton House, 95 Charlotte Street, Asheville, NC 28801
The League of Women Voters, in partnership with the National Collaborative for Women's History and the William G. Pomeroy Foundation, invite you and your Girl Scout troop to help us celebrate the unveiling of the highway marker honoring Helen Morris Lewis, a pioneer of the women's suffrage movement and president of the NC Equal Rights Association, the first women's rights association in North Carolina.
You will also have the opportunity to learn about other important suffragettes, hear speakers, meet Lewis's family and speak to women who are dedicated to ensuring the suffragettes are remembered.
This event is free and open to the public.
Girls can learn more about earning the patch for this event here.