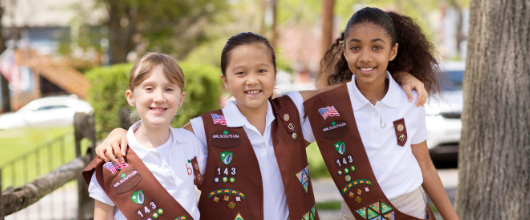 Ways to Give
In addition to our online donation form, here are ways you can make a difference by giving to Girl Scouts:
Juliette Circle

Juliette Circle members passionately support leadership development for young women by making an annual contribution of $1,000 or more. 

Evergreen Circle (Monthly Giving Program)

Make a recurring monthly gift to impact the lives of girls all year long by joining the Evergreen Circle.

By Mail or Phone

To give a gift to Girl Scouts Carolinas Peaks to Piedmont via mail, send checks payable to:

Girl Scouts Carolinas Peaks to Piedmont
c/o Resource Development
8818 W. Market Street
Colfax, NC 27235

If you have a specific designation for your gift (Family Partnership, Camperships, etc.) please indicate that designation when mailing in your gift.

We'd love to connect with you about making your gift! Please call us at 800-672-2148 if you would like to make a gift over the phone.


Matching Gifts & Volunteer Grants

Let Your Company Double or Triple Your Impact!

Many employers sponsor matching gift programs to match charitable contributions made by their employees. Gifts from employees' spouses and retirees may also qualify for a match. 


If you volunteer with us, your company may also offer donations in recognition of your hours spent volunteering with GSCP2P. 


Workplace Giving

Many companies have their own workplace giving platforms where employees can make donations to nonprofit organizations through payroll deduction. Contact your HR Representative for more information.

Give While You Shop

Support Girl Scouts Carolinas Peaks to Piedmont with your Amazon purchases by using Amazon Smile! Just select Girl Scouts Carolinas Peaks to Piedmont as your charity of choice and you are good to go. 

Corporate Gifts

Become a corporate sponsor of
Girl Scouts Carolinas Peaks to Piedmont 

We invite you to partner with us as we develop and support quality programming for girls in our community. You'll be reaching an influential group of women and girls throughout our 40 county service area, as well as receiving various levels of recognition, alignment with one of the top 20 most valued and visible brands and a sponsorship package customized to your organization, location and giving interest. You can have a direct impact on the quality of Girl Scouting and the opportunities available to girls by providing sustaining support to our programs.  

Planned Giving

Legacies. How will you be remembered?

Do you want to do something today to support Girl Scouts in a meaningful way in the future? Regardless of your current cash flow or your age, you can create a powerful legacy of building girls of courage, confidence and character, who make the world a better place. You can create a lasting legacy for future Girl Scouts in our community through a planned gift. Including a bequest in your estate ensures the next generation of girls can enjoy Girl Scouting just as much as you have!


Everyone has the opportunity to include Girl Scouts in their estate plans, and make a big impact. It can begin by simply writing a will, but it can also include changing beneficiaries of life insurance policies and retirement accounts or providing lifetime income for yourself and others through a charitable trust.

To learn more about how you can make a significant impact through a gift in your estate, contact our Resource Development team at info@girlscoutsp2p.org or 800.672.2148.

Have you made a planned gift to P2P? This significant gift grants you membership in the Juliette Gordon Low Society. If we not have already recognized you in this prestigious group, please let us know. 

Honorary Gifts & Memorials

Consider honoring the life and memory of someone you love. Contact our Resource Development team at info@girlscoutsp2p.org or 800.672.2148 for more information. 

United Way Designation

Girl Scouts Carolinas Peaks to Piedmont is a proud member agency of the following United Way organizations:

United Way of Gaston County
United Way of Greater High Point
United Way of Iredell County
United Way of Randolph County

Many of United Way organizations allow you to designate your gift to the United Way to Girl Scouts Carolinas Peaks to Piedmont as a member agency. Contact the United Way in your area to discuss how to make a gift designation. Find your local United Way office.