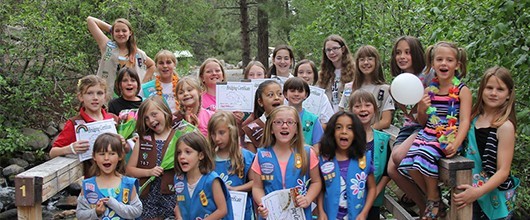 Employment
Envision yourself engaged in meaningful work in a collaborative environment with open communication and mutual respect, where your ideas are valued and appreciated. Imagine yourself working to your full potential, making a positive contribution to a girl's life.
At Girl Scouts Carolinas Peaks to Piedmont that is precisely what we offer our employees. We are an equal opportunity employer offering diverse career paths in many fields and dedicated to building a better future for those who work with us.
We have office locations in Asheville, Gastonia, Hickory and Greensboro, NC and camp facilities in Brevard, Lenoir and Sophia, NC. All of our properties are tobacco-free.
We offer a flexible work environment with generous paid-time off benefits for full and part-time team members. Full-time team members have a comprehensive benefits package that includes medical, life and long-term disability, as well as dental, vision, 401K and other programs.

Current job openings include:
IT Support Specialist- Hickory or Gastonia, NC 
Girl Scouts Carolinas Peaks to Piedmont is searching for a versatile IT Support Specialist to provide network maintenance and user support for our organization serving over 18,000 members with 60+ employees. The Specialist will work with IT to ensure a consistent, high-quality technology experience for internal and external customers, incorporating adequate security controls. He or she will work with all aspects of information technology support including planning, development and maintenance of infrastructure, desktop and remote user technology, software deployment and training and data security.
To apply for this position, please click the Apply link above. 
Part-Time Seasonal Recruiter- Guilford County, NC
Girl Scouts Carolinas Peaks to Piedmont is looking for a part-time seasonal recruiter in Guilford County. This position is looking for someone to implement recruitment strategies to grow girl membership and volunteerism, build relationships in the community to support Girl Scout recruitment efforts, prepare action plans with to identify leads and project number of contacts needed to meet membership goals and to expand the visibility and understanding of the Girl Scout brand, membership benefits, mission and values.
To apply for this position, please click the Apply link above. 
Temporary (Seasonal) Part-Time Program Provider

The Community Program addresses the need for at-risk and underserved girls in low economic areas. This position is a grant-funded, community program leader position that provides the Girl Scout Leadership Experience program to girls from these types of backgrounds to develop healthy relationships and to increase interest in school and the community. 
Girl Scouts introduces them to real life skills to enable them to have richer lives within their family and community and to be better prepared academically for the future. The Girl Scout Leadership Experience Community Program delivers social and emotional learning in the following competency areas: self-awareness, self-management, social awareness, relationship skills and responsible decision-making. These competencies, known as soft skills, have been identified as key factors in academic success and successful employment. They are also introduced to higher awards and scholarships. Girl Scouts encourages community service by giving back and changing the world. The duration of this position is determined yearly based on grant funding and site requirements. 
Locations Available:
Gastonia, NC: To apply, please click here.