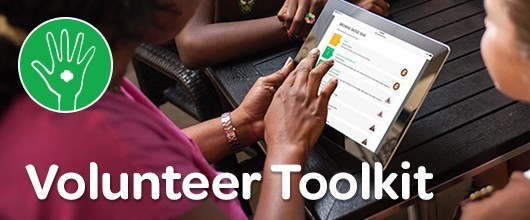 Volunteer Toolkit
The Volunteer Toolkit, the official GSUSA online source for program content and related resources and troop financial management support, is a digtial planning tool that helps you set up, customize and track your troop activities and achievements. 
Want to add your own meeting plans? Perfect. Everything in the Volunteer Toolkit is fully customizable. You can add your own troop activities and change their order with a quick drag-and-drop. You can also report on troop finances, access your girl and family roster and track your girls' achievements and attendance.
The Volunteer Toolkit is accessible from a home computer, tablet or phone. And you can always find it on the top of any of our website pages by clicking "My GS."
Looking for some helpful resources? Here you go!
Content
From Daisy to Ambassador, the Volunteer Toolkit features new badges and Journeys. See the latest including 13 Journeys, 36 badges and 145 VTK meetings.
Explore Tab
Setting up your troop year plan just got easier! The new Explore tab lets you select your own plan or choose from preselected tracks. Plus, new badge and award visuals let you see clearly what your girls can earn. 
Badge Tracks
We've added new badge tracks across all grade levels- with convenient downloadable overviews you can use with your troop.
Badge Requirements
Badge images are now active buttons that point to the required steps for achievement. Requirements have also been added to the top of the meeting plan.
NEW for 2019: 5 Steps, 3 Choices
Troop leaders can engage with program content using the full set of activity options. For 2019, this feature is available for STEM Space Science badges across the grade levels.