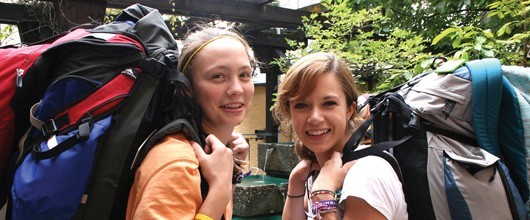 Travel
Where can you go?  Places like China, Costa Rica, Switzerland, Patagonia, Peru, Scotland, Germany, Mexico, and more!
How far will your Girl Scout experience take you? That's up to you!
Girl Scouts love to travel—from the field trips they take as Brownies to the global adventures they go on as teens. If you love exploring different places and cultures, then Girl Scouts is the place for you.

You can experience all that our country has to offer, whether you're "blasting off" at Space Camp in Alabama, taking in a Broadway show in New York City, or visiting the birthplace of Girl Scouts' founder, Juliette Gordon Low, in Savannah, Georgia. And you can plan even bigger adventures around the world, traveling with other Girl Scouts who share your love of adventure.

Check out Girl Scout Destinations, the ultimate adventure program for girls ages 11 and older. With a ton of different trips to apply for every year—from surfing camp on the east coast and breathtaking hikes out west, to the crazy-cool wonder of new cultures abroad—there's something amazing for everyone to experience.
Make friends from all over the country as you travel with Girl Scouts from different states, see and learn new things, and pack your bags full of inspiring, life-changing experiences and memories. Find your trip today!
Who is eligible for Destinations? Most events are for girls in grades 6-12. However, some trips have different age restrictions. Check each Destinations program for the age requirements. Some Getaways allow younger girls. 
How do I apply?
Go to the Destinations website. 
Download and complete an application for each event you wish to attend.
Each application requires at least two reference forms. Ask two people you know well to complete one and send in to the council. You can use the same letter for multiple applications.
E-mail your application to girlawards@girlscoutsp2p.org or mail to: GSCP2P- Destinations, Attn: Valerie Alexander, 303 Pisgah Church Road, Suite C, Greensboro, NC 27455. Please do not send your application directly to the Destinations sponsor, as council approval is needed. 
Applicants will be notified of their acceptance in early spring. Congratulations and bon voyage!
When is the application deadline? The Round One deadline is November 1. The Round Two deadline is February 1. After that, applications will be accepted on a rolling basis for Destinations with available spots. The sooner you apply, the better chance you have of being accepted into your top choice. Please check the Destinations website for availability. 

Troop Trips
If you are planning an extended troop trip (three nights or more), you troop must complete the Extended Troop Trip Planning workbook, which goes into the ins-and-outs of planning a Girl Scout trip. Don't forget to check out Safety Activity Checkpoints to ensure that your trip activities are safe and appropriate for girls.