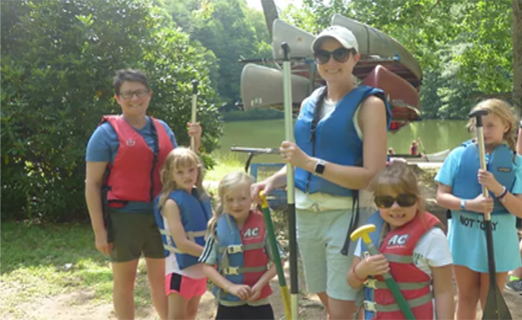 Girl Scout Volunteers & the Outdoors
To get our girls outside, we need volunteers to help us! Besides being a troop leader, there are numerous opportunities at our camps that we need volunteers for! Do you love hiking, teaching outdoor skills, camping in tents, fishing or anything outdoors-related? If you're interested in teaching others these skills or in gaining these skills yourself, please let us know! 
Outdoor Trainings for Adults
Before a troop can stay overnight at our resident camps, an adult with the troop must have an Overnight License. The Overnight License is earned by completing the two online Be Safe, Be Ready courses Outings and Overnights and Girl Planning on gsLearn. 
In order to build a fire and cook marshmallows or a meal, a Cook Out License is required. Earn it by first holding an Overnight License and then attending the Fire Building and Outdoor Cooking courses.
Troops planning to pitch and sleep in tents OR to camp at a non-council facility will need a Camp License. Requirements are that you hold Overnight and Cook Out Licenses and complete the Tenting skills course. For more information on these courses, visit this page.
​For more information on these courses, visit this page. 

Adult Learning Weekends
Throughout the year, Girl Scouts Carolinas Peaks to Piedmont hosts three adult learning weekends where volunteers can come together to take trainings, learn new skills and get advice from each other. Events are held on our camp properties. You can find the dates and information for our upcoming adult learning weekends here. 
​