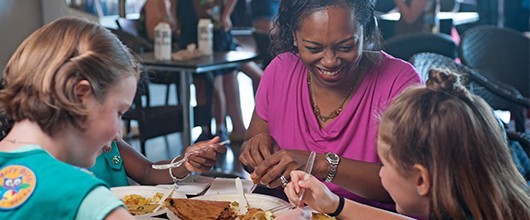 Required Licenses
Licenses and certifications are completed as needed for an activity. The minimum needed by a troop leader is the Leader License. Others follow like the Overnight License, which includes taking both the Be Safe, Be Ready courses.
Once you complete a license, don't stop learning! There are also other non-license courses that are beneficial for everyone!
To find upcoming trainings, please visit our online calendar. For more information about any of the courses below, please contact your local Volunteer Experience Manager or info@girlscoutsp2p.org.
Leader License

First Aider Certification

The Safety Activity Checkpoints always tell you when a first aider is required. A first aider is defined as someone with current first aid certification, current adult CPR certification and CPR certification appropriate to the grade level of the girls (for instance, a first aider for Girl Scout Daisies should have child CPR).

First aid and CPR certification is accepted from several organizations. Doctors, dentists, physician assistants, nurse practitioners, registered nurses, licensed practical nurses, paramedics, military medics or EMTs may also serve as first aiders. Copies of current certification should be submitted for inclusion in the volunteer's personal record.

Volunteers may attend classes offered by their local American Red Cross, fire departments, rescue squads, hospitals, work places or other agencies. Online classes MUST have a skills demonstration session; a class that is completely online is not acceptable by Girl Scouts of the USA. The council also schedules first aid and CPR classes for volunteers. Classes may be requested for groups of six or more adults.

Overnight & Activity License

The Overnight & Activity License (formerly Be Safe, Be Ready) is required for all overnights and field trips outside of a normal troop meeting. This is an online, self-paced course available in the Content Library of gsLearn.

These courses cover safety and procedures, how to incorporate girls of any grade level into the planning process, what to take and what to wear and more. NOTE: You will not be able to build fires, make s'mores or cook over a campfire with the Overnight & Activity License.

For help logging into gsLearn, please contact info@girlscoutsp2p.org.

Cook Out License

To build a campfire, make s'mores and/or cook on the fire, either in your backyard or at camp, the Cook Out License is required. To complete this, you will need to take:

Overnight License
Fire Building (approximately three hours) 
Outdoor Cooking (approximately three and a half hours)

This license allows the girls you train to build fires and cook over a campfire. The license is valid for five years. 

Camp License

To enjoy a back-to-nature camping experience, complete with tent pitching, fires and outdoor cooking and/or to camp out in your backyard or at a non-council site, you will need to complete the Camp License.  The Camp License consists of three pieces:

Overnight License
Cook Out License
Tenting (approximately three hours)

This course is valuable for volunteers who work with troops and want to help them build independence by learning many useful outdoor skills.  It covers tarps, tents, and knots. The license is valid for five years. 

Feel like you want a little extra? Try Advanced Camping Skills. Do your girls want to be camping All-Stars, adept with saws, hatchets, lanterns, water purification, and building camp furniture from just rope and sticks? You will need to complete:

Overnight License
Camp License
Advanced Camping Skills 

Camp License Test Out

A Camp License Test Out is available for experienced campers and is especially appropriate for volunteers with a Girl Scout camping background. Volunteers complete an application, which documents their experience, and a written test of 81 questions. Upon successful completion, a skills demonstration will be scheduled and the volunteer will be asked to build a fire, use both a charcoal and propane stove, tie required knots, pitch a tent and tarp and demonstrate knife use.

Successfully completing the Test Out skills demonstration earns the volunteer a Camp License, which will be updated every five years. Submit a camping and outdoor skills resume to info@girlscoutsp2p.org to begin the test-out process.

Backpacking

Do you girls want to backpack, testing their strength and skill and ability to care for themselves? Complete the following:

Camp License
Backpacking (four hour pre-trip session, followed by a two-day backpacking trip)

Camp License Renewal

To stay current, camp licenses need to be updated every five years.

Note: Because of revisions to the Be Safe, Be Ready courses, the Overnight & Activity License needs to have been taken after January 1, 2020 in order to take the Camp License Renewal.

Travel License

Along with the Overnight License, Extended Troop Trip Training is required for "hotel-camping" or any trips of more than two nights. This training can be used to help girls learn to plan their trips, and the volunteer gets credit for being trained.

Please note: This training is under revision- the one above is current as of right now. Thank you!