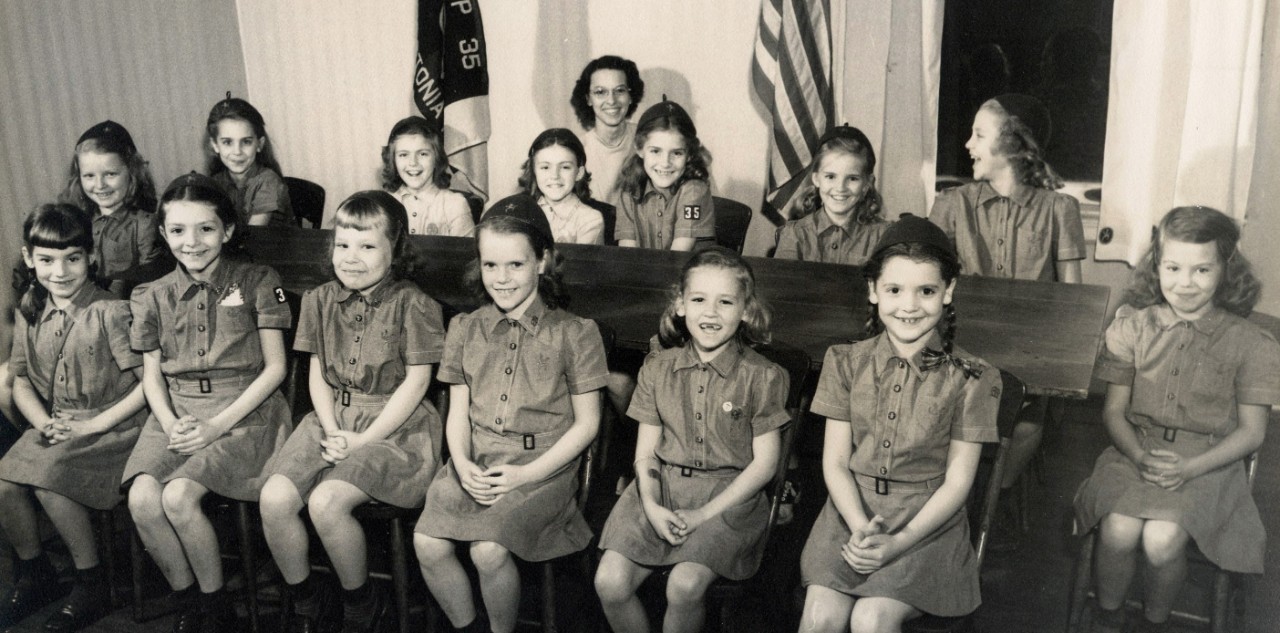 GSCP2P Archives & History
The History and Archives Committee of Girl Scouts Carolinas Peaks to Piedmont (GSCP2P) endeavors to preserve its history by maintaining archives in four areas of the council. These archives consist of uniforms, badges, photographs and other memorabilia, which show the history of Girl Scouting, as well as the history of GSCP2P. 
It is our goal to maintain these items for future Girl Scouts and to promote interest in Girl Scout history for our girls today.  The Archives committee serves this council by providing history programs and historical displays including: 
Uniforms to Borrow: Girls are welcome to borrow vintage uniforms from the Triad and Hickory service centers at any time. These uniforms can be couriered to other offices as well for troops to check out. Uniforms can be borrowed for up to two weeks. A $25 deposit is required for 10 or less uniforms and a $50 deposit is required for more than 10. Upon the return of the uniforms in the same condition, the deposit is returned to the troop. For more information about checking out uniforms, please send an inquiry here. 
Displays and History Talks: Members of the Archives Committee are happy to do displays of historical items for large groups or service units. They also do history talks for troops, bringing in local history and memorabilia. 
Playing in the Past Badge: The Girl Scout Junior Playing in the Past badge is available as a workshop for Junior troops. The workshop lasts two hours and is instructed by a member of the Archives Committe. Girls will leave the workshop earning their badge. For more information, contact us here. 
Juliette Gordon Low Talks: Want to know about our founder, Juliette Gordon Low? Request a visit by a local authority who will share interesting information and fun facts!
Tours of the Archives: The Gastonia area archive members provide tours of the collected memorabilia for troops.
Treasure Hunt: This activity is done at the Triad Service Center and allows visitors to explore and learn about Girl Scouts. Girls can stop by any time the office is open to participate in the hunt. 
Girl Scout Collector's Show: Once a year, the Archives Committee put together a collector's show that brings vendors from other states. Troops and the public are invited to attend. It is a great way to see lots of historical memorabilia and girl programming and activities are usually planned around the show. 
History Patch: The History Patch has been created for troops to earn and teaches them about local Girl Scout history. This patch can be earned by all Girl Scout levels and by earning this patch, girls are four steps closer to earning their Girl Scout Ways badge. Patch information can be found here.  Resource boxes to help you earn this patch are available at all the service centers for a small deposit. 
Other Items for Check-Out: Troops can also check-out a 1960 Decade Box (Gastonia Service Center) and resource boxes (all service centers) for a small deposit. E-mail us here for more information. 
The Archives Committe is always looking for more ways to preserve the GSCP2P history. If you have unwanted Girl Scouts items you would like to donate, including old uniforms, handbooks, badges, pins, papers and photographs about Girl Scouts in North Carolina, please let us know. 
For more information about the History and Archives Committee, contact us at info@girlscoutsp2p.org or visit the Archives Committee website.