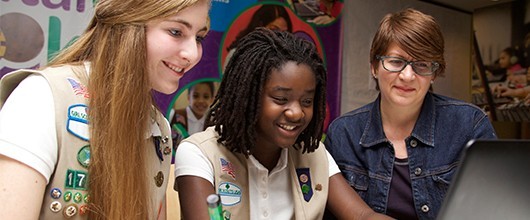 Volunteer Training
Girl Scouts Carolinas Peaks to Piedmont offers a range of courses to help prepare and train you in your role as a Girl Scout volunteer.  Our goal is to provide girls with the best possible program in a secure environment and to provide adult volunteers with the training necessary to ensure excellent programming for our girls and their safety and protection. 
We know our volunteers lead busy lives and fitting volunteer training into your schedule can be a challenge. That's why we offer a variety of ways to earn your training- from online courses and independent study to face-to-face sessions. You can find all our required licenses here or consult our quick print list of required course work.
We also offer quick and easy enrichment courses to build skills in specific subjects like meeting planning, as well as host three, weekend-long AWESOME Adult Learning events each year.
You can keep track of what courses you have completed by using the Adult Learning Record Card.

The Ed Whitmire Scholarship Fund
Need help funding your adult learning opportunities? The Ed Whitmire Scholarship Fund supports volunteer learning in Girl Scouts Carolinas Peaks to Piedmont. The purpose of this scholarship is to enable our registered volunteers who might not have the means to attend courses and events throughout the year to have the chance to go!
You can fill out the scholarship application here. If you cannot access the form, please call us at 800-672-2148 to complete the application over the phone.